Testimonials
"Realtime Student Information System has single handedly changed the way we report state data. Never have I worked with a company that makes date reporting of NJSMART so easy as with the Realtime SIS. They have been able to tackle the unique report..."
read more
Joseph C. Martino
Supervisor of Technology, Hammonton Public Schools
"Considering all that has taken place over the past few months, I felt the need to send you this email of compliments. When I set out to find a new program/vendor to handle our Student system requirements a few years ago, I knew that choosing your co..."
read more
Michael Asmus
Director of Technology, North Arlington Public Schools
Latest
Realtime news
Wednesday, May 31, 2017
Realtime's User Group
Offering 3 Locations and Dates:
May 31st, June 1st & June 7th 2017
Agenda
8:15 - 8:30 Welcome & Breakfast (Bagels, Muffins, Danish, Fruit, Coffee, Tea & Juice)

8:30 - 9:30 General Session
Enhancements/New Features/What's Next

9:45 - 10:45 Session 1 Workshops (Select One)
Workshop 1 - Staff Evaluation:
How is your district managing staff evaluations? Would you like to ask other districts how they are accomplishing this task? Attend this workshop to discuss and review the powerful features designed to save time & paper shuffling.
Workshop 2 - Special Education / Service Provider Planner & Log:
Share your ideas and successes related to the Special Education Module, Service Provider Planner and Log, offer your expertise to help other users and learn best practices from Realtime experts and your peers.

Workshop 3 - Report Card Development/ New Gradebook to Support Skills/Standards:
Are you thinking about changing grade level report cards or are you in the middle of those changes now and have questions? Do you wonder how a teacher's gradebook can support skill/standards? If you have those questions or are simply interested in those topics please register for this session.

11:00 - 12:00 Session 2 Workshops (Select One)
Workshop 4 - Scheduling:
Are you responsible for scheduling a building and want to learn best practices? Attend this workshop to understand the process of course selection, master schedule building and operating the scheduler with many helpful tips & tricks to optimize your school's schedule.

Workshop 5 - Student Growth Obj, Professional Development Plan & Continuing Education Credits:
Gain valuable insight into how Realtime can help you manage the SGO, PDP and CEC creation, submission and approval processes. Discuss best practices from Districts using these modules and Realtime experts.

Workshop 6 - District Rollover:
Once a year the process of getting ready for next year happens whether you are ready for it or not. If you have done this process multiple times but need a refresher or this is your district's first time this workshop is for you.

12:05 - 12:20 Group Session Closing

Our Meeting Locations:

Wednesday, May 31st
Clarion Hotel Conference Center
815 Route 37 West, Toms River, NJ 08755

Thursday, June 1st
Wyndham Mt Laurel
1111 NJ-73, Mt Laurel, NJ 08054

Wednesday, June 7th
Marriott Saddle Brook
138 New Pehle Ave, Saddle Brook, NJ 07663

To register send an email to Kim Pargas with attendee names, their two (2) workshop selections, one in each session, your district name and the location you wish to attend. If possible send one email per district.

We are happy to announce that there is NOT a limit on the number of attendees per district. Please register as soon as possible! The deadline for registration is Friday, May 19th.
Wednesday, May 17, 2017
NJASA 2017 Spring Leadership Conference
Come Visit Realtime @ Booth #22
May 17th - 19th, 2017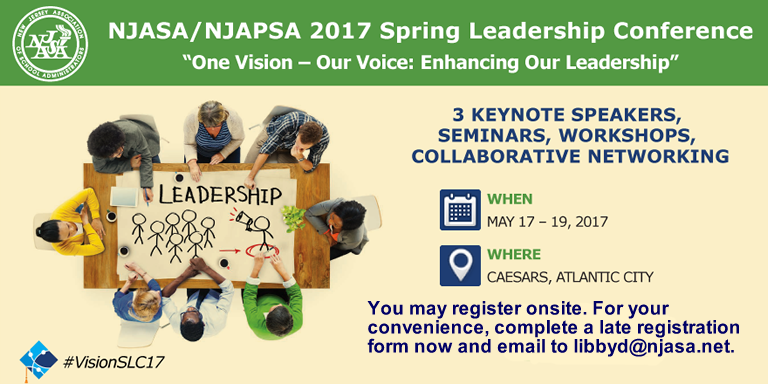 Location:
Caesar's Atlantic City
2100 Pacific Avenue
Atlantic City, NJ 08401
Wednesday, January 25, 2017
TECHSPO '17
Realtime will be attending TECHSPO 2017!
Harrah's Resort Atlantic City
January 26th & 27th 2017
Location: Wildwood Ballroom
Exhibit Hours
8:00 am-4:15 pm
Come Visit us at Booth #702
Thursday, November 10, 2016
ASAH - Conference 2016
39th Annual ASAH Conference "Making Dreams Happen"
Come visit us at Booth #30
Harrah's Waterfront Hotel & Convention Center, Atlantic City
Friday November 4th, 2016 8am to 3:30pm.
ASAH - Serving the Special Education Community since 1974
For more information or to register online: www.ASAH.org

Friday, October 21, 2016
Come see us at NJSBA Workshop 2016
We will be at the AC Convention Center October 25,26 in Booth 315.